Transition
Welcome from your new Heads of Year
Our Transition Programme ensures a secure and calm start into this next chapter of school-life, starting with getting to know your children in their primary schools and building positive relationships with them from the beginning. We were glad to welcome you to our Virtual Induction Event in July (which can be viewed on the video below), and we now look forward to celebrating students' successful transitions with their primary school teachers during the first term through events and showcases that primary school staff are invited to attend. All of these factors contribute to the smooth transition during this big step into their secondary stage education.
Our Year 7 and wider Pastoral Team strive to provide the necessary support to your children every lesson, every day. Please do not hesitate to contact me if you have any further queries about this important time. 
Mrs Williams – Head of Year 7 cwilliams@carringtonschool.org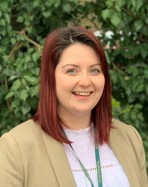 Hello! My name is Mrs Dilworth and I am the Assistant Head of Year 7, I work alongside Mrs Williams to make sure your transition from primary to secondary school is as smooth as possible.
My favourite part of working with the Year 7 team is seeing students bloom as they settle into their new school. Over the next few weeks, many will be nervous about things like the size of the new school and making friends; it gives me so much joy to see these worries disappear as the first of September comes and goes and our new arrivals begin to settle in.
Our aim over the last few months has been to get to know the students joining us and to make their transition as positive as possible. If you have any questions about the additional support we will be able to provide during the transition please do not hesitate to contact me. 
Mrs Dilworth Assistant Head of Year 7 sdilworth@carringtonschool.org
Hello from the Students!
Our current students wanted to write to you to welcome you to your new school. They were in your shoes once and want to reassure you that everything will be okay, as well as provide some extra information for you all.
Summer Challenges
We have a range of optional challenges set by your new subject teachers that we hope will give you a glimpse into things you will be doing in September.
Please send your completed challenges (or photos of them with your parents' or carers' permission) to Mrs Dilworth at sdilworth@carringtonschool.org or you can keep them safe to give to Mrs Dilworth in September. You will then receive a Credit for every challenge completed.
We cannot wait to see your completed work!
Department Welcome Videos
Each of our departments made a short video to welcome our incoming students, introducing many of the teachers and helping to build some familiarity ahead of the start of the new term.